Cardholder Dropdown
In order to go towards the cardholder dropdown, navigate towards the right-hand corner of the interface. Select the dropdown menu "Cardholder", and go towards settings.

This will allow you to see and amend your personal details.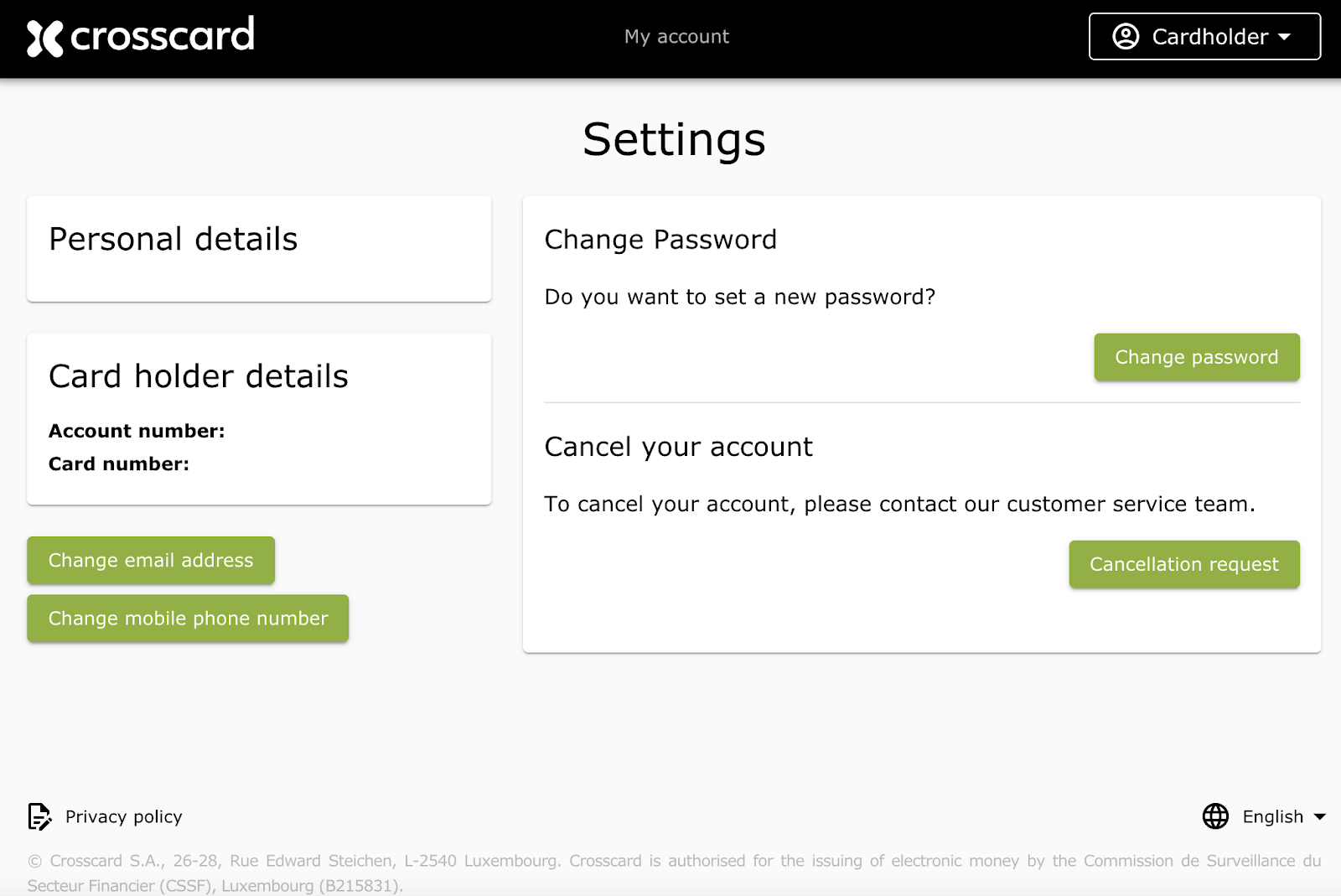 ---
Cancelling Your Account
In order to cancel your account, you must select the Cardholder drop-down (in the utmost right hand corner of your account) and select the cog-gear symbol with Settings on it.
Depending on what type of account/card you have you will be able to directly cancel your card or you will need to send a customer service request in order to have someone do it for you.
This option is only available for Payout cardholders, where the funds belong to the cardholder and not the CLA.
For Payout cards for example, you must send in a cancellation request. Before doing this, please ensure that you have unloaded the remaining balance onto your account. If this is not done, you will be charged a redemption fee of €2.95 for our services of manually returning the money. We can only refund money to an account in your name, and when an IBAN and a BIC have been provided.
On the other hand, Reward cardholders do not have the option to send the remaining funds to a bank account in their name because of tax reasons. We advise the cardholder to use all remaining funds at German merchants, before the card expires. The cardholder will not be issued a new card if they are no longer part of the company.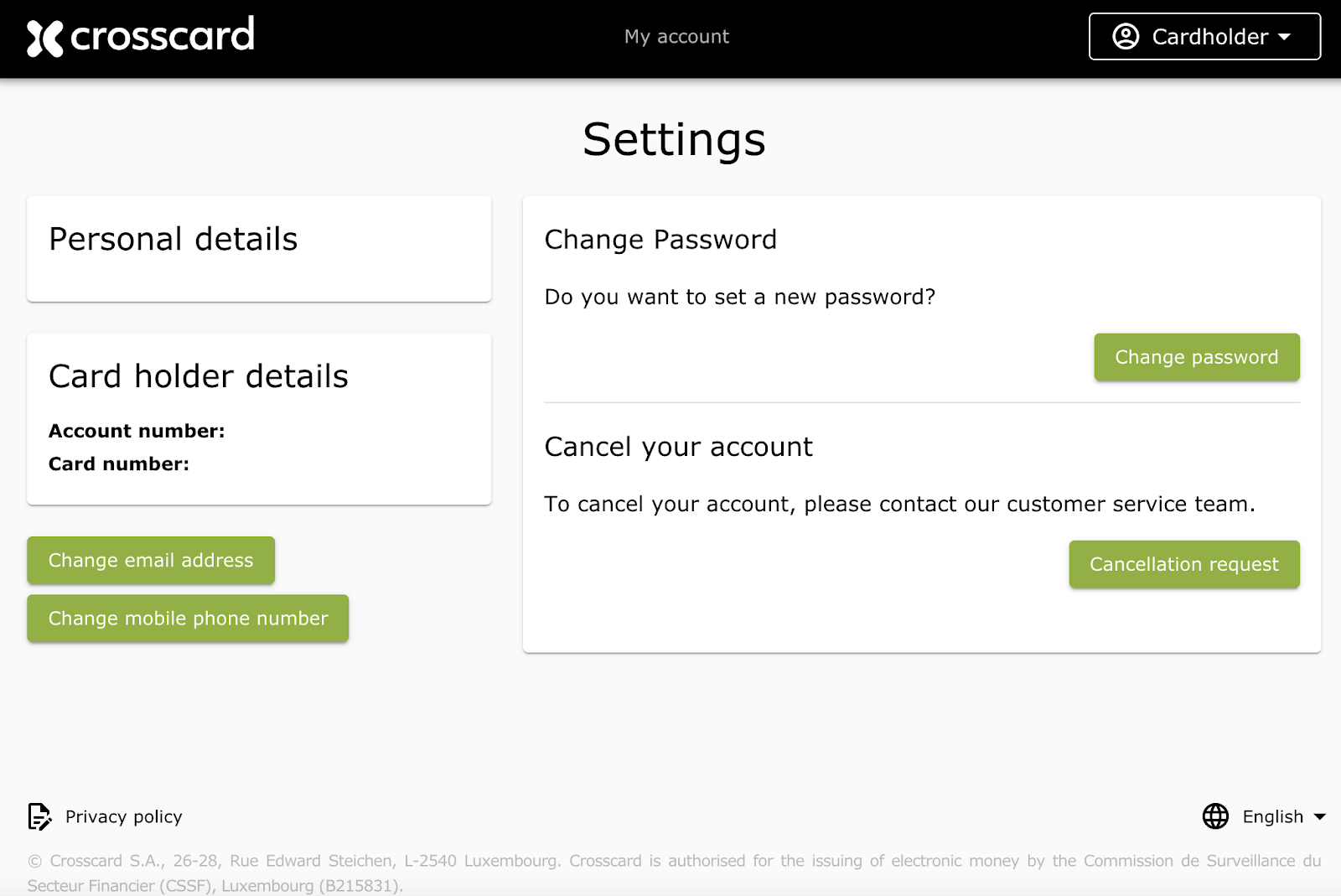 ---
Change Password
In order to change your password you need to select the Cardholder drop down, select change password, enter your older password, your new password, and type in the verification code that has been sent to your registered Crosscard mobile device.
Only once you have entered the verification code will you be able to finalize your password change.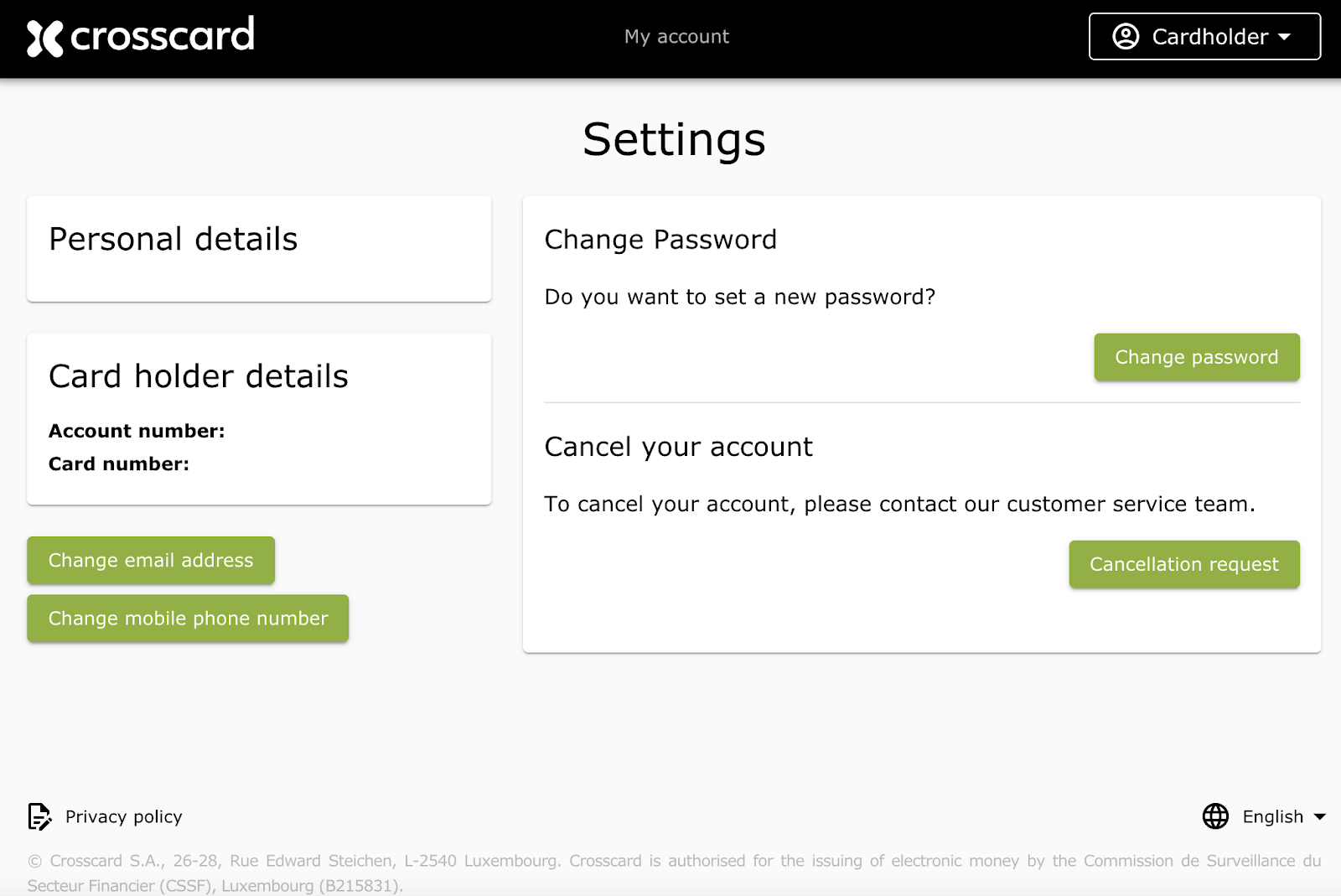 ---
Change Mobile Phone Number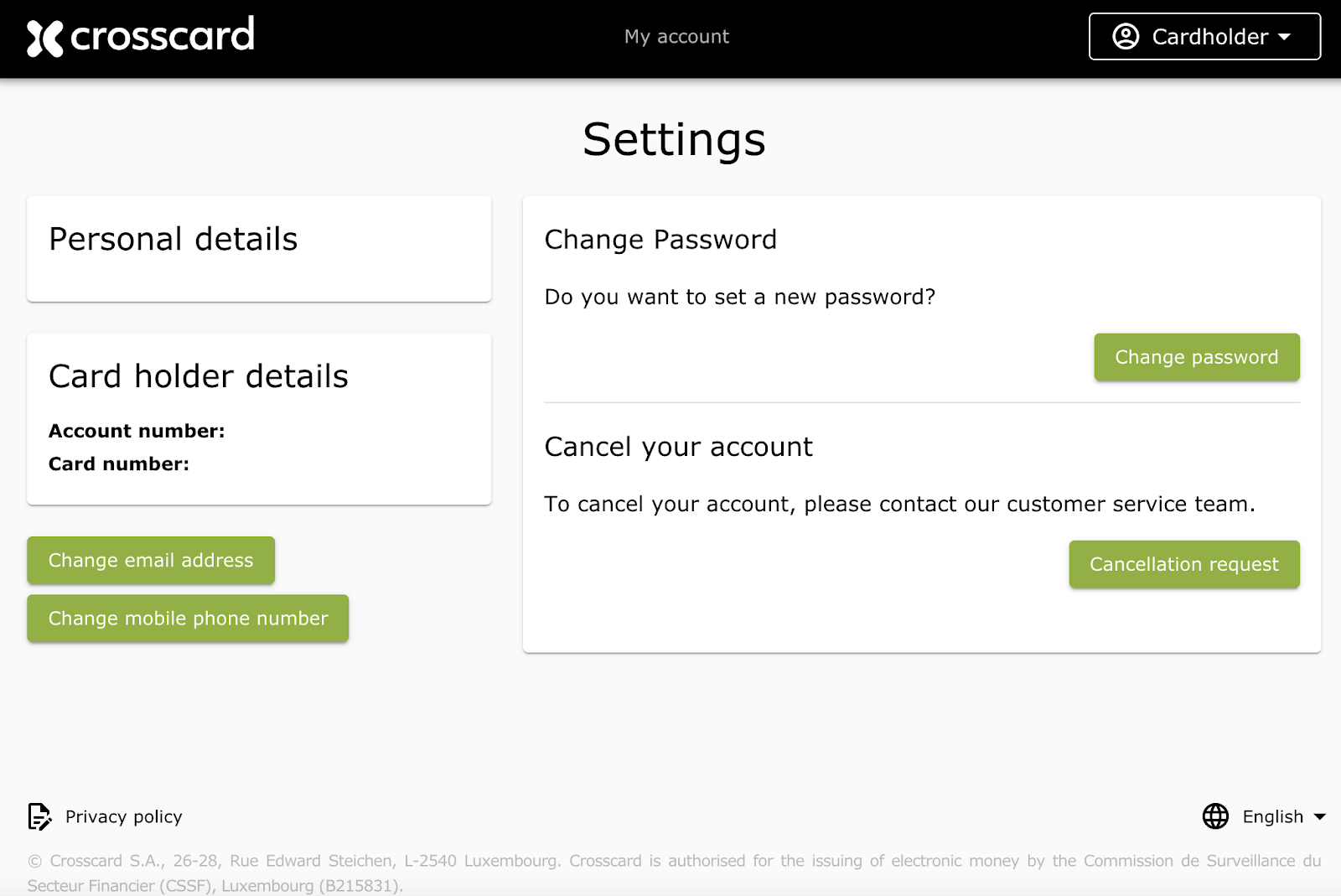 In order to change your mobile number you will need to select the Cardholder drop-down menu, settings option, and select change mobile number.
If you own a Reward card, you will not be able to change your mobile number without the assistance of a customer service representative.
In order for a customer service representative to assist you in changing your mobile number, you will need to send the following information:
"If for any reason you can't log in, or you experience any problems during the change, please send us an email with a high resolution color scan or photo of a recent bill/contract attached. For a prepaid number, please send us a copy of the prepaid package displaying your new number, with your ID on the side."
Only once this proof is returned, can the customer service representative update your phone number.
---
Change Email Address
If your Crosscard account is activated, you can log in and you will find the correct email address in your Crosscard account under the Settings menu.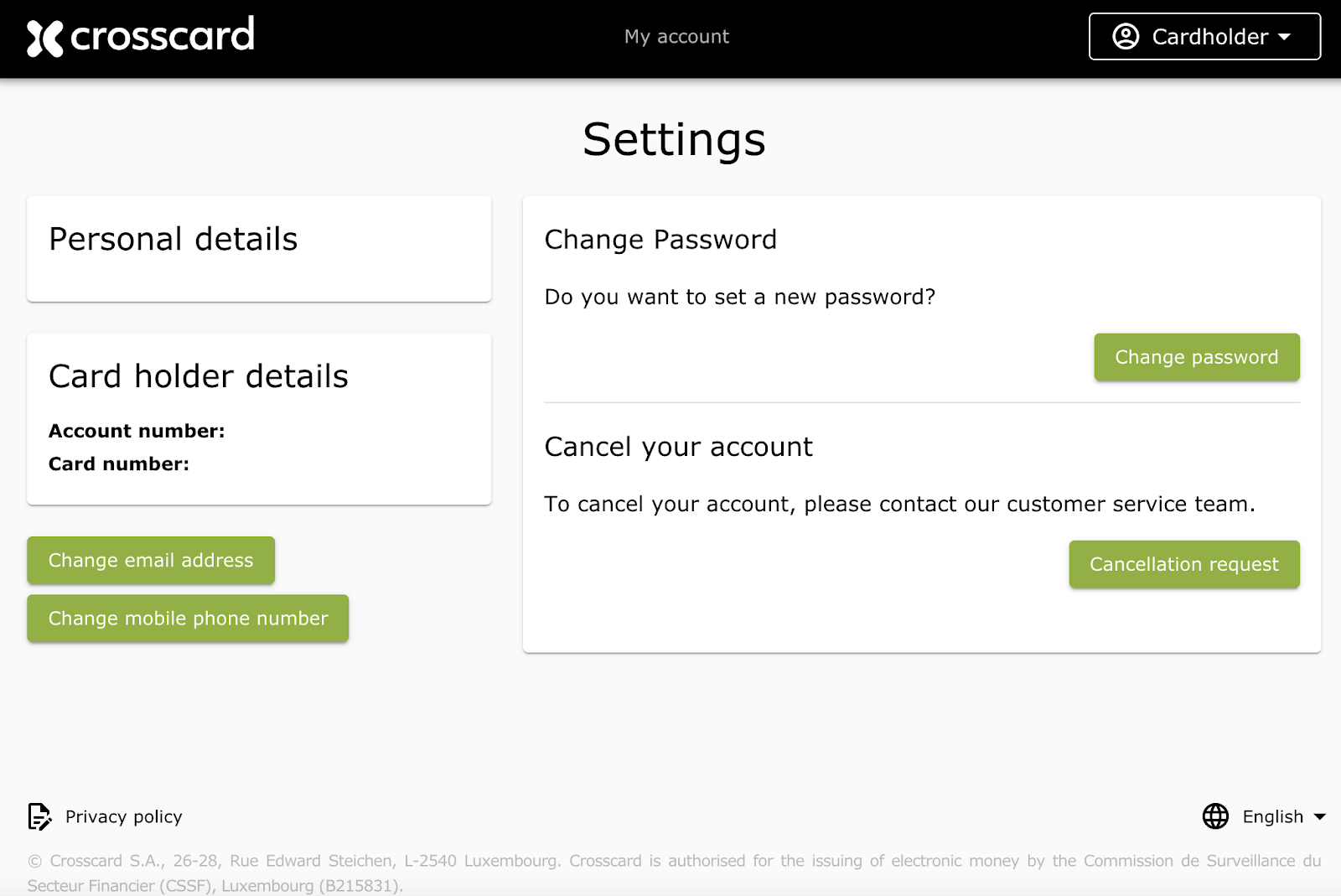 If you no longer have access to your registered email address, we can change it for you. In order to change your email address in the system, we must first verify your identity. Please send us the following:
copy of your ID or passport

your mobile phone number registered with Crosscard*
your home address registered with Crosscard*
your 9-digit card ID (on the card under the name)*
Once you have verified your identity with the following details, we will be able to change your email address.

Crosscard S.A. | 26-28, Rue Edward Steichen | L-2540 Luxembourg
Company B215831 | Registered in Luxembourg